An article
in last week's Wall Street Journal discusses the economic and urban planning boondoggle that is the modern sports stadium. There are reams of data showing that it's just not worth it for taxpayers to subsidize new stadiums--they create mostly low-level service jobs, they don't improve the city, and they don't bring in enough tax revenue to justify the cost. The WSJ cites a book noting that several stadiums have merely brought "a plethora of pawn shops and dollar stores" to the neighborhoods they have moved to. Yet cities continue to fall into the same trap over and over, like so many jilted lovers that keep coming back for more.
Oakland has made this mistake once or twice, most famously when they lured the Raiders back from LA. Now, because that deal ruined the stadium for baseball, the A's will soon be moving to Fremont.
This East Bay Express
article details how it all went down, including the fact that Jerry Brown put the kibosh on a proposed new stadium in downtown Oakland. While the writers of this article seem to think of that plan as the one that got away, I'd rank it up there as one of the smartest things Jerry Brown ever did.
I'm not saying it's totally impossible to build a functional sports complex, but the Coliseum doesn't do the job. I'd be hard-pressed to find someone in East Oakland who felt that their life was somehow enriched by having the stadium in their neighborhood. Incidentally, AT&T Park, the home of the SF Giants, integrates itself into both the city and the natural landscape of the bay much better than Oakland's Coliseum. The irony is that it was completely privately funded.
In an attempt to ameliorate the problem, Oakland is now trying to build a transit village around the Coliseum. I can't help but be more than a little skeptical of this plan. If it's anything like
Fruitvale Village
, it will be a complete disaster. At least Fruitvale Village has an active neighborhood in its midst that it gamely attempts to mesh with. The Coliseum area is geared towards industrial use. There's not much to anchor the community, and a few bougie shops aren't going to change that.
When it comes down to it, I don't know anyone who has contemplated moving somewhere so that they can be closer to their sports team. (Imagine moving to East Oakland to be closer to the A's!) On the other hand, I know lots of people who have moved to be closer to another publicly subsidized Oakland landmark.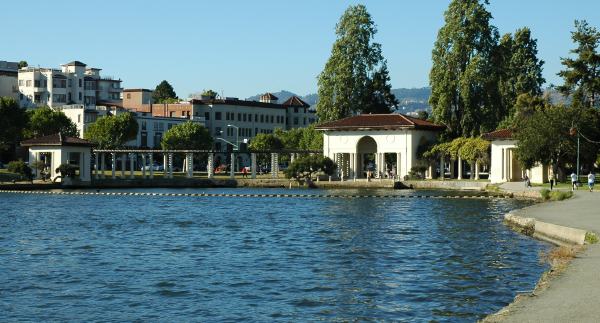 Lake Merritt is everything that the Coliseum Center is not: easily accessible, well-integrated into its environment, conducive to daily use, etc. There's a steady trickle of people walking around the lake at any given time, a far cry from the mobs of single-minded fans going to a sports game. And for all these reasons, it doesn't require massive, soul-crushing parking lots. Lake Merritt is an aquatic version of New York's Central Park, a bit of nature that brings the city together and reminds us not to lose our soul. It's got too much going on to do justice to it in one post, but it should be obvious that
this
should be the end goal of public works projects. I guess that's just beyond the imagination of our political leaders.
Bonus: Ghostride the Volvo